By DANNY LAMOUREUX, Canadian Curling Association
Friday, November 14, 2014
It's been a week of terrific shot making, and more of the same is expected tomorrow, as British Columbia will face Saskatchewan, and Northwest Territories will take on Ontario in semifinal action at the 52nd edition of the Canadian Mixed Curling Championship at North Bay Granite in North Bay, Ont.

Max Kirkpatrick (Brian Doherty Photography)
Saskatchewan's Max Kirkpatrick, with teammates Jolene Campbell, Chris Haichert and Teejay Haichert, finished the Championship Round Pool at 6-1 with an 8-5 win over Manitoba's Jared Kolomaya. The evening did not start well for Kirkpatrick as the Swift Current squad gave up four in the first end. Undaunted, Kirkpatrick took three in the second end and stole deuces in both the fifth in sixth ends to earn that first-place distinction.
In a game with huge implications for both teams – a loss could eliminate them from further play – Northwest Territories' Jamie Koe faced the surging Northern Ontario team of Colin Koivula. The Thunder Bay foursome had won four games in a row and a win would vault them to the medal round. Unfortunately, they gave up three in the first end, which allowed Koe to adopt a defensive mode with three blank ends in the next four ends. Koivula grabbed one in the fourth and then stole one in the sixth to trail 3-2 playing the seventh end. Much to the dismay of the partisan crowd, a raise take-out by Koe earned him three points and the 6-2 win. Koe was awarded second place when Ontario lost, while Koivula missed the playoffs because of that Ontario loss. Had Chris Gardner won against Wes Craig of BC, Koivula would have advanced regardless of winning or losing.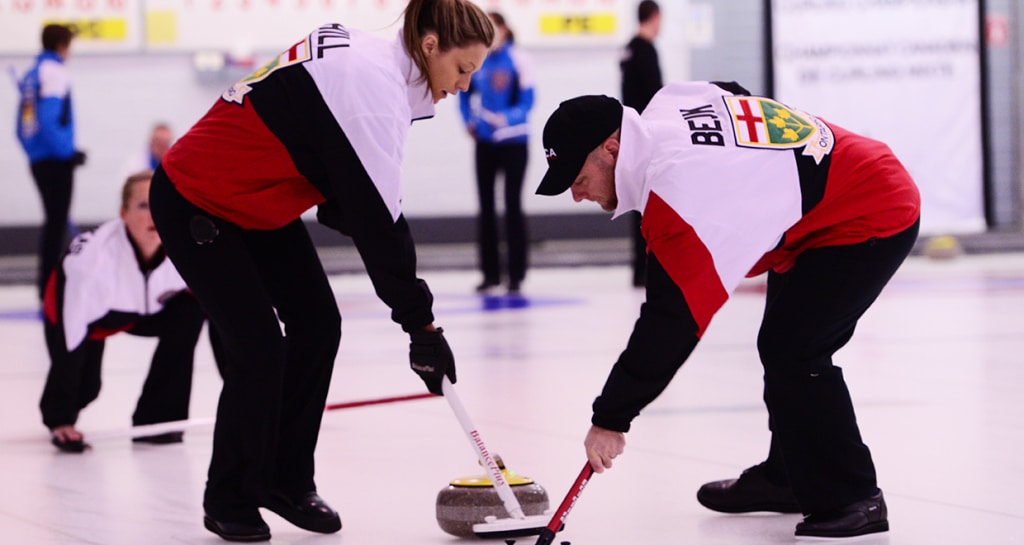 Ontario's Trish Hill and Jonathan Beuk (Brian Doherty Photography)
Ontario needed a victory to grab first place overall and BC needed a win to stay alive. It was BC's turn this game, as they stole one in the third and four more in the fourth when Gardner was uncharacteristically light on a draw. Two ends later the game was over at 8-3, with Craig grabbing the last playoff spot.
Kirkpatrick will have the hammer in the first end playing BC's Craig of Kerry Park CC who is joined by Sarah Wark, Miles Craig and Michelle Allen in one semifinal, while Koe's Yellowknife CC foursome of Kerry Galusha, Robert Borden and Megan Cormier will have last stone in the first end against the Ottawa CC's Gardner, Trish Hill, Jon Beuk and Jess Barcauskas.
Two semifinals will take place on Saturday morning at 9:30 a.m. ET, pitting 1 vs 4 and 2 vs 3. The two winners then advance to the final Saturday afternoon at 2:30 p.m. while the two losing teams meet in the bronze-medal game at the same time.
The winning team will represent Canada at the 2015 World Mixed Curling Championship, Sept. 12-19 at a site to be announced by the World Curling Federation.
For media requests during the event, contact Danny Lamoureux on site at (613) 878-3682 or [email protected]
For event, team and draw information, visit www.curling.ca/2015mixed-en. Click here for a downloadable copy of the rosters.
Draw scores/results will be immediately available on the Canadian Curling Association's website, www.curling.ca.
Up-to-date standings can be found here: 2015 Mixed Curling Standings