Chris Gardner's Ontario foursome from the Ottawa CC – Trish Hill, Jon Beuk and Jess Barcauskas – defeated Newfoundland and Labrador's Gary Oke 9-1 in only six ends, pushing his record to 4-0, tied at the top of Pool B at the 52nd edition of the Canadian Mixed Curling Championship at the North Bay Granite in North Bay, Ont.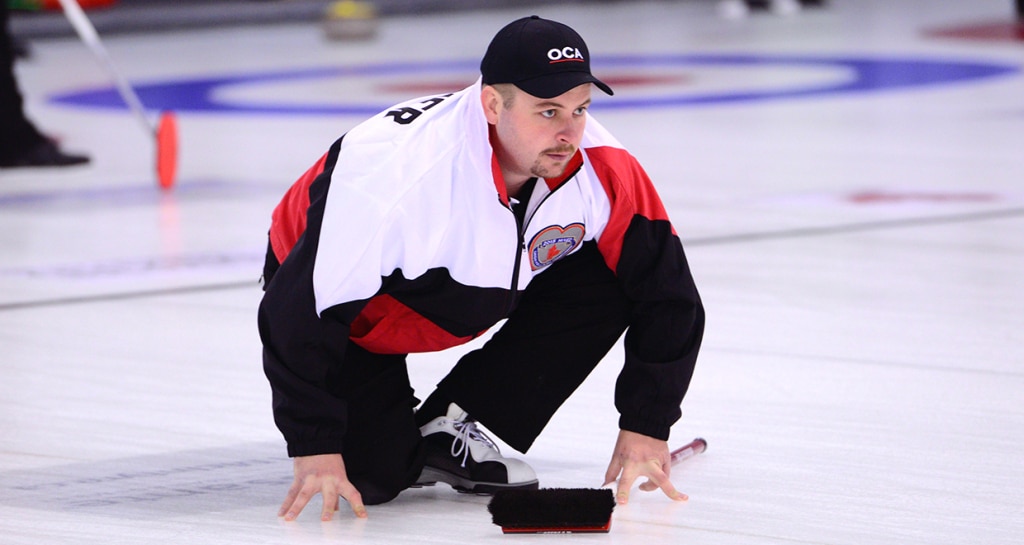 Ontario's Chris Gardner (Brian Doherty Photography)
Gardner stole singles in the second and third ends, and then stole two in the fourth end and four in the fifth end. Gardner is tied for first with Saskatchewan's Max Kirkpatrick. With two draws yet to be played, both teams are guaranteed to move forward to the Championship Round this Thursday and Friday.
Northern Ontario's Colin Koivula sent his fans home happy with a 9-1 victory over winless Wade Kingdon of Iqaluit. The Thunder Bay skipper sits at 2-2 with a crucial game tomorrow against PEI's Jamie Newson, who was idle tonight. Also in the hunt for a Championship Round berth is 2013 national mixed runner-up Brent MacDougall of Nova Scotia. The Halifax crew also sits at 2-2 with games against winless Newfoundland and Labrador and Nunavut on Wednesday.
In Pool A play, NWT's Jamie Koe continues to delight the North Bay crowd with his terrific play ranging from bullet-weight take-outs to tidy, game-saving draw shots. Koe upped his record to 3-1 alone at the top of Pool B with a 6-3 win over Quebec's Tom Wharry. In the seventh end, with the score 4-3 in favour of Koe, Quebec had a stone guarded in the four-foot area. Koe, without hesitation, hammered a long corner guard back on to that stone for the game-changing two points.
There is a log jam behind Koe, however, with five teams bunched up at 2-2. Quebec's Wharry is in that group along with Alberta's Glen Hansen, who enjoyed the evening off.
Attempting to join Koe at 3-1 was BC's Wes Craig. The Kerry Park foursome from Mill Bay opened up a three-point lead after only two ends only to have the Yukon's Bob Smallwood roar back to tie it. In the fifth end, Craig once again jumped ahead with a score of three points, only to see the Whitehorse team respond with four points in the sixth end. Craig then had a difficult tap back with the potential to score two in the seventh end but rubbed a guard and Yukon stole two, running BC out of stones in the eighth end for 9-6 win. BC and Yukon are also at 2-2.
In the final game of Pool A, Manitoba's Jared Kolomaya squared off against New Brunswick's Scott Jones in a battle of 1-2 teams. This match was no contest as the Manitobans opened with a deuce then stole singles in the next three ends, coasting home with a 6-3 win. Manitoba is 2-2 while New Brunswick is 1-3.
Wednesday will be an eventful day in Pool A!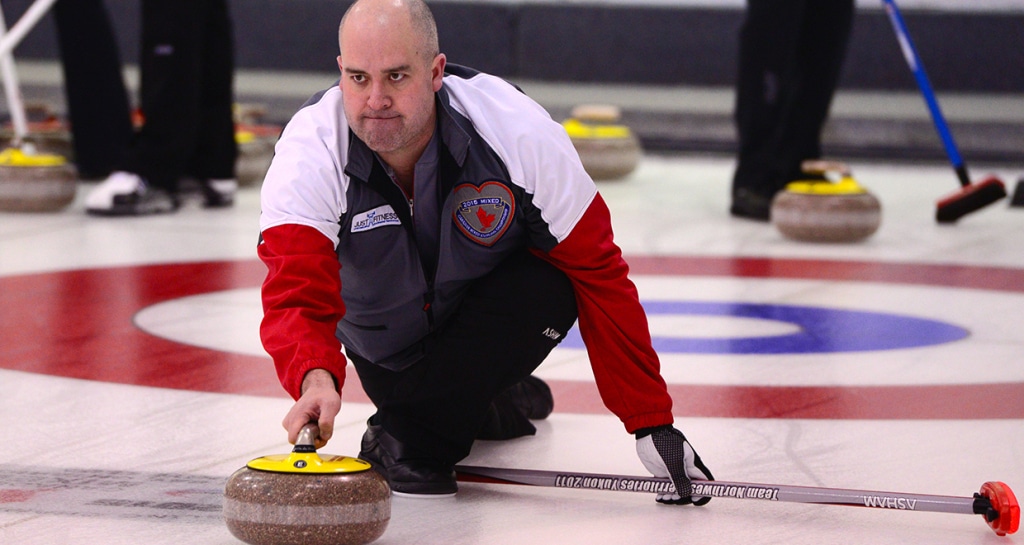 NWT's Jamie Koe (Brian Doherty Photography)
Fourteen teams (10 provinces plus Northern Ontario, Northwest Territories, Nunavut and Yukon), compete in the main draw. They have been seeded and separated into two pools of seven teams (based on their Mixed win-loss records the past three years) and first play a round robin within their respective pools. This season also sees a move from 10 end games to 8 ends.
At the conclusion of the round robin, the top four teams in each pool advance to the championship round, with the teams playing the teams from the opposite pool, carrying forward their win-loss records for only those games involving the advancing teams.
Meanwhile, the bottom three teams in each pool will go to the Seeding Pool, where they will compete against the three teams from the opposite pool. The teams carry forward their win-loss record only from the games involving the other two teams in their round-robin pool. This will determine seedings for the 2016 Canadian Mixed in Toronto.
At the conclusion of the championship round on Friday, two semifinals will take place on Saturday morning at 9:30 a.m. ET, pitting 1 vs 4 and 2 vs 3. The two winners then advance to the final Saturday afternoon at 2:30 p.m. while the two losing teams meet in the bronze-medal game at the same time.
In addition, all games throughout the competition are now eight (not 10) ends. Also, no tiebreaker games will be played at the conclusion of either round. Instead, any ties for position will be determined by accumulated pre-game Last-Shot-Draw results.
The winning team will represent Canada at the 2015 World Mixed Curling Championship, Sept. 12-19 at a site to be announced by the World Curling Federation.
For media requests during the event, contact Danny Lamoureux on site at (613) 878-3682 or [email protected]
For event, team and draw information, visit www.curling.ca/2015mixed-en. Click here for a downloadable copy of the rosters.
Draw scores/results will be immediately available on the Canadian Curling Association's website, www.curling.ca.
Up-to-date standings can be found here: 2015 Mixed Curling Standings
Photos from the 2015 Canadian Mixed Curling Championship can be found here (Brian Doherty Photography).