After suffering his first loss of the week this afternoon at the 52nd edition of the Canadian Mixed Curling Championship at the North Bay Granite in North Bay, the Ottawa CC's Chris Gardner made short work of neighboring Québec thrashing Tom Wharry's Montréal foursome 11-1 conceded after just six ends.
Gardner's big-weight takeout skills were too much for Québec, as he scored three in the first and stole five in the fourth end. Ontario improves to 4-1 while Québec drops to 1-4 in the Championship Pool.
In another critical game for the Championship Pool leaders, Northwest Territories' Jamie Koe faced Saskatchewan's Max Kirkpatrick, both teams at 3-1. It was a low-scoring affair with teams trading singles after a blanked first end, tied at two playing the pivotal sixth end. The Swift Current squad scored a deuce with a draw to the four-foot by Kirkpatrick. Saskatchewan forced Koe to a single point in the seventh end then kept the house relatively clean for a simple in-turn takeout and a 6-3 win. Kirkpatrick improves to 4-1, tied with Ontario for first place.
Koe's record falls to 3-2 tied for third place with BC.
Nova Scotia's Brent MacDougall, who lost the 2013 Canadian Mixed final in Montréal, needed a win against BC to keep his slim playoff hopes alive. A steal of two in the third end helped MacDougall lead 4-2 playing the seventh end. However, Craig stormed back to take three and led by one coming home. With a bunch of Nova Scotia stones in the house, Craig carefully guarded his lone shot stone while MacDougall tried three times to make a double raise to get it out of the four foot, missing all three times. The final score was 6-4 for BC. Nova Scotia drops to 1-4.
In the final Championship Pool game, Manitoba's Jared Kolomaya had his hands full with a stubborn Northern Ontario team skipped by Colin Koivula of Thunder Bay. In another low-scoring affair, Koivula led 2-1 playing the sixth end when the Gimli-based team scored two to jump ahead, 3-2. Northern Ontario grabbed a deuce in the seventh to be one up coming home. The Port Arthur CC skip made a number of guards to protect shot stone, leaving Kolomaya a difficult double for the win. To the relief of the Northern Ontario fans, he missed and Koivula escaped with a 5-3 win, improving to 2-3 and tied with Manitoba for fifth place. After allowing Ontario to steal a win away in Draw 8, Koivula has won three in a row.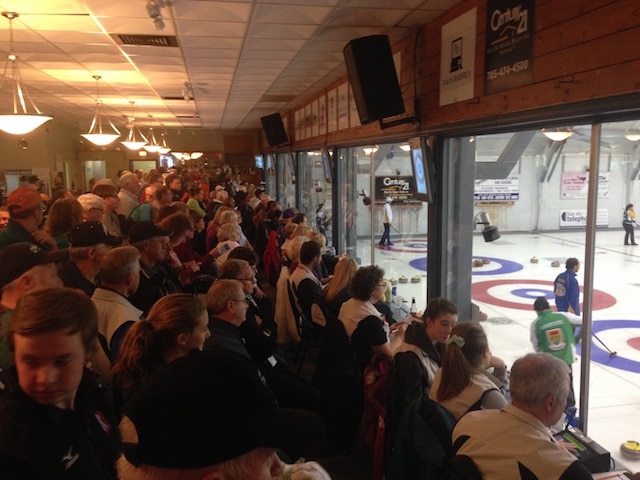 A full house at North Bay Granite watches Draw 12 action at the 2015 Canadian Mixed Curling Championship (Brian Doherty Photography)
In this Championship Round, teams only carry over the win/loss record from the preliminary round pool games with the other three teams that moved on to the Championship round with them. The four teams from each pool will now cross over, playing each other for a total of seven games counting towards qualifying for Saturday's semifinal.
In Seeding Round action, Alberta's Glen Hansen broke open a tied game with PEI's Jamie Newson, scoring four points in the sixth end to go up by four. Newson responded with two in the seventh and had two in the house in the eighth end, forcing Hansen to play a difficult shot which he made, only giving up a steal of one for a 7-6 win. Alberta's record in the pool is 5-3, while PEI drops to 3-5.
The bottom three teams from each preliminary pool advanced to this Pool, where they will compete against the three teams from the opposite pool. The teams carry forward their full win-loss record from all the games played. This will determine seedings for the 2016 Canadian Mixed in Toronto.
At the conclusion of the championship round on Friday, two semifinals will take place on Saturday morning at 9:30 a.m. ET, pitting 1 vs 4 and 2 vs 3. The two winners then advance to the final Saturday afternoon at 2:30 p.m. while the two losing teams meet in the bronze-medal game at the same time.
In addition, all games throughout the competition are now eight (not 10) ends. Also, no tiebreaker games will be played at the conclusion of either round. Instead, any ties for position will be determined by accumulated pre-game Last-Shot-Draw results.
The winning team will represent Canada at the 2015 World Mixed Curling Championship, Sept. 12-19 at a site to be announced by the World Curling Federation.
For media requests during the event, contact Danny Lamoureux on site at (613) 878-3682 or [email protected]
For event, team and draw information, visit www.curling.ca/2015mixed-en. Click here for a downloadable copy of the rosters.
Draw scores/results will be immediately available on the Canadian Curling Association's website, www.curling.ca.
Up-to-date standings can be found here: 2015 Mixed Curling Standings