By DANNY LAMOUREUX, Canadian Curling Association
Friday, November 14, 2014
Ontario and Saskatchewan are through to the playoffs at the 52nd edition of the Canadian Mixed Curling Championship at the North Bay Granite in North Bay, Ont.
Ontario's Chris Gardner and his Ottawa CC foursome of Trish Hill, Jon Beuk and Jessica Barcauskas as well as Saskatchewan's Max Kirkpatrick and his Swift Current team of Jolene Campbell, Chris Haichert and Teejay Haichert will advance to Saturday's semi final medal round.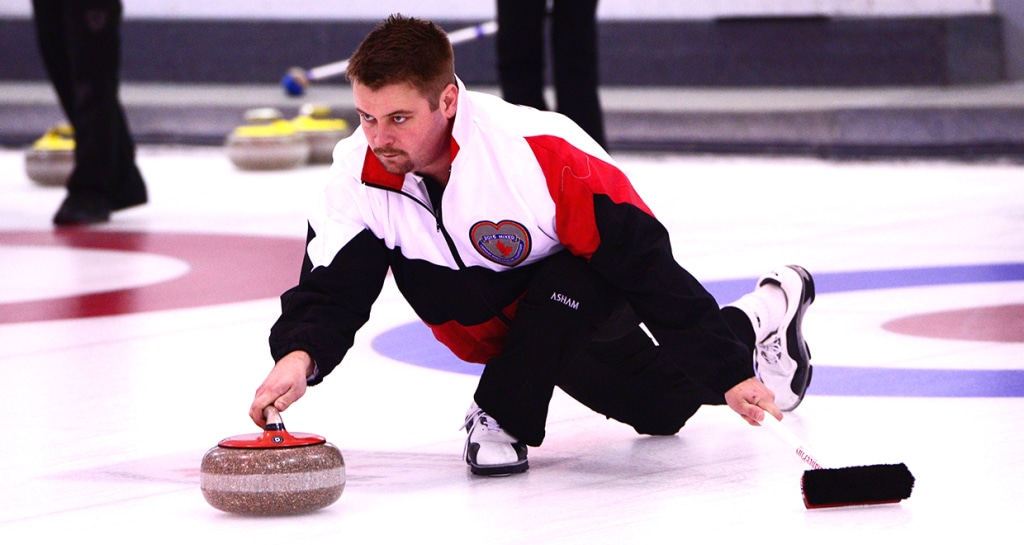 Ontario skip Chris Gardner (Brian Doherty Photography)
Gardner will move forward by virtue of a solid 6-4 win over Manitoba's Jared Kolomaya while Kirkpatrick made a perfect freeze with his final stone of the game to save the victory, winning 6-4 over BC's Wes Craig.
Both Ontario and Saskatchewan stand at 5-1, at this point good enough for one of the four semifinal berths with one game left to play in the Championship Pool.
Kolomaya, from the Gimli CC, opened the scoring with two in the first end but surrendered Gardner's score of two in the 3rd to tie the game. After a force of one in the fourth end, Gardner took the lead for the first time with two points in the fifth and then stole two in the sixth when Kolomaya missed a big-weight take-out, leaving two yellow Ontario stones and giving up a steal of two.
In the Saskatchewan versus BC tilt, Kirkpatrick led 5-4 coming home. Kirkpatrick just nicked a guard with his first stone of the end, allowing Craig to draw for second shot in the four foot. Saskatchewan called a time-out and considered a hit-and-roll, but settled on the freeze, which he made beautifully. Craig was wide on his takeout, jamming it for a steal of one.
Jamie Koe of the NWT is keeping pace for a berth in the medal round with a hard-fought win over Nova Scotia's Brent MacDougall. The Mayflower CC skipper is battling a cold but managed to grab a 2-1 lead with the hammer playing the fourth. He had a hit-and-stay for one but rolled too far, giving Koe a steal of two points. Nova Scotia scored singles in the fifth and seventh ends, sandwiched around an NWT deuce, leaving Koe one up coming home with last stone. MacDougall drew one around a long guard to the back of the button but not good enough for the hot hand of Jamie Koe, who calmly followed it down for shot stone and a 6-4 victory. Koe is at 4-2 and will face local favourite Colin Koivula, who continues to impress in this Championship Round winning all his games to date.
With his back against the wall since Wednesday night, Koivula made short work of Québec's Tom Wharry with four points in the first end, followed by a steal in the second. The game was conceded after six ends at 7-2. Right now, the Thunder Bay foursome is tied for the final playoff spot with BC at 3-3.
Manitoba's Kolomaya is at 2-4. Quebec's Wharry and Nova Scotia's MacDougall will meet tonight to determine who will finish seventh overall.
In Seeding Round action today, Alberta's Glen Hansen defeated Nunavut's Wade Kingdon 6-3, finishing his tournament with a record of 6-3 and ninth overall. Kingdon finished his round robin winless in nine tries, losing to New Brunswick's Scott Jones, who finishes at 4-5. PEI's Jamie Newson went down to the Yukon's Bob Smallwood 8-3, leaving him with a record of 3-6. Newfoundland and Labrador's Gary Oke also lost to Jones this morning and will face Smallwood tonight to complete their records.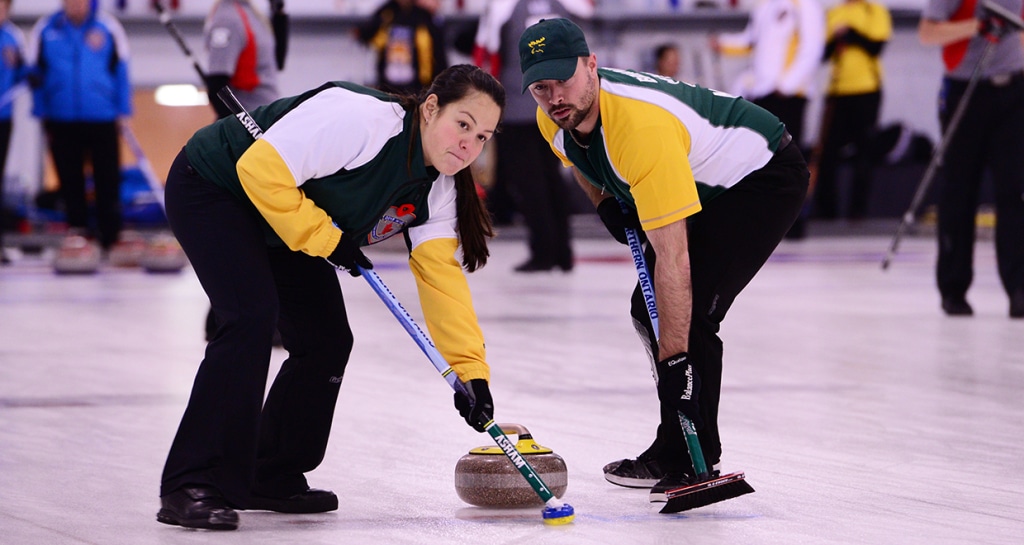 Northern Ontario's Oye-Sem Won Briand and Chris Briand (Brian Doherty Photography)
The bottom three teams from each of the preliminary pools advanced to this Pool, where they competed against the three teams from the opposite pool. The teams carry forward their full win-loss record from all the games played. This will determine seedings for the 2016 Canadian Mixed in Toronto.
At the conclusion of the championship round on Friday, two semifinals will take place on Saturday morning at 9:30 a.m. ET, pitting 1 vs 4 and 2 vs 3. The two winners then advance to the final Saturday afternoon at 2:30 p.m. while the two losing teams meet in the bronze-medal game at the same time.
The winning team will represent Canada at the 2015 World Mixed Curling Championship, Sept. 12-19 at a site to be announced by the World Curling Federation.
For media requests during the event, contact Danny Lamoureux on site at (613) 878-3682 or [email protected]
For event, team and draw information, visit www.curling.ca/2015mixed-en. Click here for a downloadable copy of the rosters.
Draw scores/results will be immediately available on the Canadian Curling Association's website, www.curling.ca.
Up-to-date standings can be found here: 2015 Mixed Curling Standings