In a battle of tournament leaders, Jamie Koe's Northwest Territories rink defeated previously unbeaten Ontario 8-7, forging a three-way tie atop the leaderboard at the 52nd edition of the Canadian Mixed Curling Championship at the North Bay Granite in North Bay, Ont.
Both teams are now tied 3-1 with Saskatchewan's Max Kirkpatrick as a result of this very entertaining match.
In the second end, Gardner's runback attempt missed wide, and Koe stole two points to lead 3-0. Down 3-1 without the hammer in the fourth end, the Ottawa CC foursome delivered a perfect end, forcing Koe to draw against three. He was too heavy and all of sudden control went back to Ontario at 4-3.
The Yellowknife Curling Centre's skip loves stones in play, and the house was full of red and yellow granite in the next end. Koe's last stone was a quiet out-turn tap-back, which he executed perfectly to score three right back. Koe lessened Ontario's chances by stealing another deuce in the sixth. While the team from Northwest Territories allowed Gardner a score of two in the seventh end, they avoided trouble in the eighth when Gardner's last stone rubbed a guard, staying in the open for easy removal and an 8-7 win.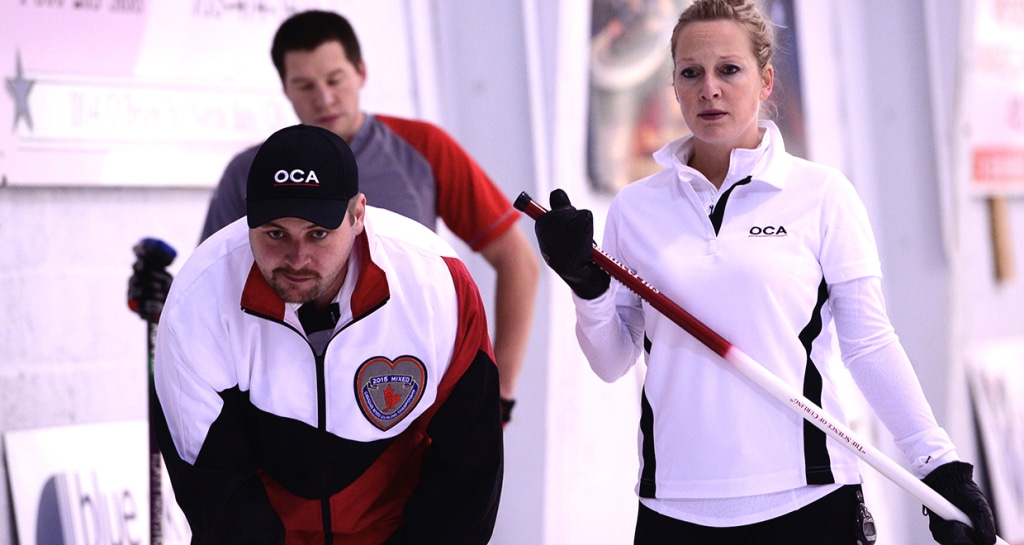 Ontario skip Chris Gardner and lead Jessica Barcauskas in Draw 11 action (Brian Doherty Photography)
In the other Championship Round game, the host team's Colin Koivula kept his strong play going, having qualified for the last position Wednesday night by dumping BC's Wes Craig 7-3. A steal of three points in the first end and a single in the second end put Thunder Bay's Northern Ontario team in control. The final score was 7-3. BC drops to 2-2 while Northern Ontario earned their first win of this Championship Pool and sit at 1-3.
In this Championship Round, teams only carry over the win/loss record from the preliminary round pool games with the other three teams that moved on to the Championship round with them. The four teams from each pool will now cross over, playing each other for a total of seven games counting towards qualifying for Saturday's semi final.
In Seeding Round action Alberta's Glen Hansen broke open a tight game with Newfoundland and Labrador's Gary Oke, scoring three points in the sixth end to coast home with a 5-2 win. Hansen's record in the pool is 4-3 while Oke drops to 1-6. In a battle of Territories, Bob Smallwood's Yukon foursome scored early and big with four in the first end and three in the second end, dumping Nunavut's Wade Kingdon, 13-2. Yukon improves to 3-4 while Kingdon is winless in seven matches.
The bottom three teams from each preliminary pool advanced to this Pool, where they will compete against the three teams from the opposite pool. The teams carry forward their full win-loss record from all the games played. This will determine seedings for the 2016 Canadian Mixed in Toronto.
At the conclusion of the championship round on Friday, two semifinals will take place on Saturday morning at 9:30 a.m. ET, pitting 1 vs 4 and 2 vs 3. The two winners then advance to the final Saturday afternoon at 2:30 p.m. while the two losing teams meet in the bronze-medal game at the same time.
In addition, all games throughout the competition are now eight (not 10) ends. Also, no tiebreaker games will be played at the conclusion of either round. Instead, any ties for position will be determined by accumulated pre-game Last-Shot-Draw results.
The winning team will represent Canada at the 2015 World Mixed Curling Championship, Sept. 12-19 at a site to be announced by the World Curling Federation.
For media requests during the event, contact Danny Lamoureux on site at (613) 878-3682 or [email protected]
For event, team and draw information, visit www.curling.ca/2015mixed-en. Click here for a downloadable copy of the rosters.
Draw scores/results will be immediately available on the Canadian Curling Association's website, www.curling.ca.
Up-to-date standings can be found here: 2015 Mixed Curling Standings
Photos from the 2015 Canadian Mixed Curling Championship can be found here (Brian Doherty Photography).