Jamie Newson and his team from the Charlottetown & Crapaud Curling Clubs – Vanessa Hamming, Andrew Robinson and Michelle MacIntyre – knocked off previously unbeaten Max Kirkpatrick of Saskatchewan with a dramatic extra end victory by a 7-6 count in Pool B action at the 52nd edition of the Canadian Mixed Curling Championship at the North Bay Granite in North Bay, Ontario.

PEI skip Jamie Newson delivers his stone on the way to a dramatic extra-end victory in Draw 7 action at the North Bay Granite Club (Brian Doherty Photography)
Newson had scored three points in the sixth end to seemingly take control at 6-3. The Swift Current foursome grabbed a deuce in the seventh to get within one. They then stole a single point in the eight end, almost stealing two, as a measurement was required for second shot stone.
In the extra end, Kirkpatrick tried to guard his stone that was full on the button but left a tiny hole for Newson to maneuver a well-played quiet takeout for shot stone. Kirkpatrick then navigated that same hole but rolled his delivered stone to the twelve-foot area, leaving PEI a draw between guards to win the game. The final stone looked heavy out of his hand and the sweepers watched it all the way down the ice. It barely touched the corner guard, slowing it down just enough to stop on the edge of the eight-foot for the win.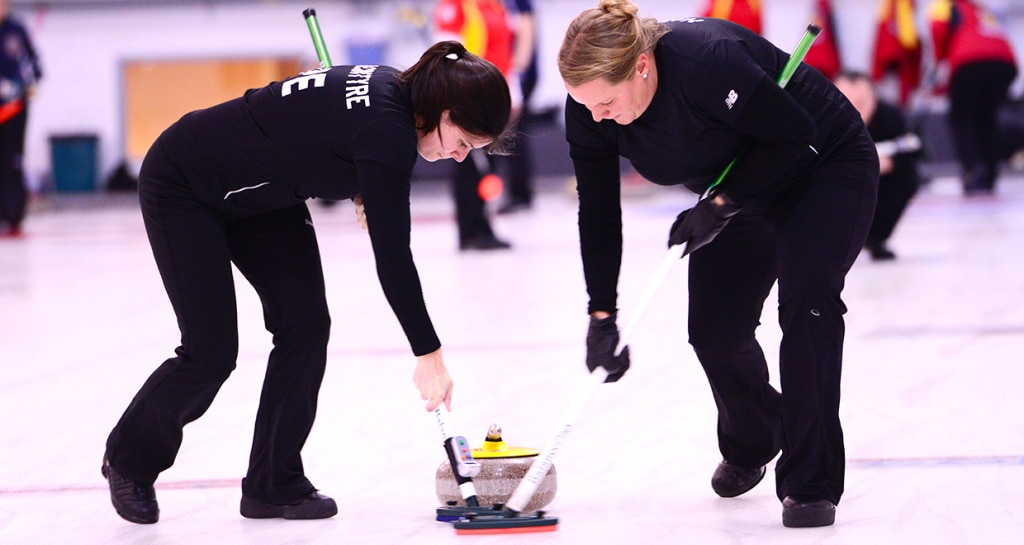 PEI's Vanessa Hamming and Michelle MacIntyre in action at the 2015 Canadian Mixed Curling Championship in North Bay, Ont. (Brian Doherty Photography)
Saskatchewan drops to 4-1 and will face Ontario tonight for top spot in Pool B. PEI is solidly in the hunt for a playoff spot, and a win over Northern Ontario tonight will push them through to the Championship Round.
In other Pool B action, Nova Scotia's Brent MacDougall squared off against winless Gary Oke of Newfoundland & Labrador. The team from Corner Brook played their best game of the week, trailing Nova Scotia 4-3 playing the final end. Oke had a couple of stones in position to potentially score the game-winning deuce; however, a nice hit and roll by MacDougall forced Oke to make a tough draw to the four-foot area to force the extra end. He was just a few inches light, allowing the Halifax-based team to escape with a 5-3 win.
MacDougall will face winless Nunavut in his final draw tonight. A win will push him to the Championship Round.
In Pool A action, two critical games were on the ice featuring four 2-2 teams: Quebec versus Alberta and Manitoba versus Yukon. Both were keys games for any of these teams wanting to advance; however, they lacked the drama of Pool B games, as both matches were lopsided.
Québec's Tom Wharry jumped out to a 3-0 lead and then stole 2 points in the fifth to safely post the win at 7-3 over Hansen. Manitoba's Jared Kolomaya, who dropped his first two games of the competition, has now won three straight, scoring three points in each of the second and fourth ends to cruise to a 10-3 win over Whitehorse's Bob Smallwood. Quebec and Manitoba are 3-2, while Alberta and Yukon are 2-3.
Teams with morning byes include: Ontario's Gardner (4-0), Northern Ontario's Koivula (2-2), BC's Craig (2-2), New Brunswick's Jones (1-3), NWT's Koe (3-1) and Nunavut's Kingdon (0-4).
There are two draws remaining in the preliminaries, with the Championship and Seeding Rounds beginning Thurs., Nov. 13.

Nova Scotia third Christine Black (Brian Doherty Photography)
Fourteen teams (10 provinces plus Northern Ontario, Northwest Territories, Nunavut and Yukon), compete in the main draw. They have been seeded and separated into two pools of seven teams (based on their Mixed win-loss records the past three years) and first play a round robin within their respective pools. This season also sees a move from 10 end games to 8 ends.
At the conclusion of the round robin, the top four teams in each pool advance to the championship round, with the teams playing the teams from the opposite pool, carrying forward their win-loss records for only those games involving the advancing teams.
Meanwhile, the bottom three teams in each pool will go to the Seeding Pool, where they will compete against the three teams from the opposite pool. The teams carry forward their win-loss record only from the games involving the other two teams in their round-robin pool. This will determine seedings for the 2016 Canadian Mixed in Toronto.
At the conclusion of the championship round on Friday, two semifinals will take place on Saturday morning at 9:30 a.m. ET, pitting 1 vs 4 and 2 vs 3. The two winners then advance to the final Saturday afternoon at 2:30 p.m. while the two losing teams meet in the bronze-medal game at the same time.
In addition, all games throughout the competition are now eight (not 10) ends. Also, no tiebreaker games will be played at the conclusion of either round. Instead, any ties for position will be determined by accumulated pre-game Last-Shot-Draw results.
The winning team will represent Canada at the 2015 World Mixed Curling Championship, Sept. 12-19 at a site to be announced by the World Curling Federation.
For media requests during the event, contact Danny Lamoureux on site at (613) 878-3682 or [email protected]
For event, team and draw information, visit www.curling.ca/2015mixed-en. Click here for a downloadable copy of the rosters.
Draw scores/results will be immediately available on the Canadian Curling Association's website, www.curling.ca.
Up-to-date standings can be found here: 2015 Mixed Curling Standings
Photos from the 2015 Canadian Mixed Curling Championship can be found here (Brian Doherty Photography).